Overview of North Programme
Training in NOS
Where?
We are a small deanery and are fortunate to work in a beautiful area of Scotland. Training is generally between two cities; Aberdeen and Inverness. Training is held between 3 main sites; Royal Aberdeen Children's Hospital (RACH), Aberdeen Maternity Hospital (AMH), and Raigmore Hospital in Inverness. Both RACH and AMH are on the same Foresterhill site in Aberdeen.
It is about 2½ hours drive between Aberdeen and Inverness.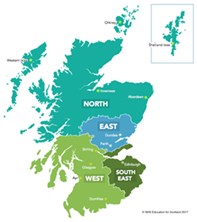 NHS Grampian
The RACH and Neonatal unit cover the catchment area coloured in blue plus the Islands of Orkney and Shetland. Children and babies coming from the islands are often transported to Aberdeen by plane. North of Aberdeen, Dr Gray's hospital in Elgin has a small paediatric unit, which is open 24 hours.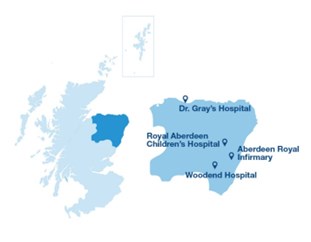 NHS Highland
Although the children's unit in Raigmore Hospital is small, it covers a large area of Scotland. 
The NHS Highland catchment area extends from Wick in the north to as far as Argyll. 
Peripheral Hospitals include Caithness General in Wick, Belford Hospital in Fort William and the Broadford Hospital on the island of Skye. None of these hospitals have an acute paediatric unit. 
Trainees working in Inverness gain an insight into providing care to a rural and widely spread population. During Community Placements it is also possible to attend clinics in some of these rural areas.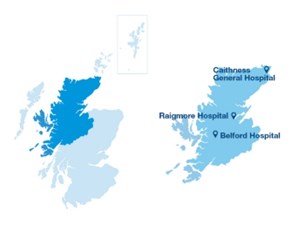 Shape of training
How Shape of Training will impact our trainees is a work in progress. We will liaise with our TPD regularly so that we can update trainees on how this will take effect within the North of Scotland using the infrastructure we already have.
More generic guidance on the curriculum can be found on the RCPCH website Shape of training / Progress+ | RCPCH, and specifically how this will impact current trainees How will Progress+ affect current trainees? | RCPCH and this quick overview document.
As it currently stands, there are three levels to training spanning 8 years, although some trainees are able to truncate their training duration if they are able to prove they have achieved all competencies within a level:
Level 1 (ST1-3)
Level 2 (ST4-5)
Level 3 (ST6-8)
Shape of training will span over 7 years and be broken down into two levels:
Level 1 (ST1-4)
Level 2 (ST5-7)
Training will be modelled on 11 training principles outlined in the Trainee Charter and trainees will link learning to the Progress Plus curriculum.
The hospitals
RACH
​Located on the Foresterhill site in Aberdeen, the RACH was built in 2004. The hospital links directly with Paediatric A+E and consists of a medical ward, surgical ward, paediatric assessment unit, paediatric day case unit unit and high dependency unit, plus an area for none-urgent investigations and reviews (Greenzone).
The history of RACH: https://vimeo.com/411329394 
AMH
The Neonatal unit is located within the Aberdeen Maternity Hospital. A new maternity Hospital is currently being built - this will be the Baird Family Hospital. The neonatal unit is a level 3 unit and provides tertiary care to the North of Scotland.
​Welcome - The Baird Family Hospital & The ANCHOR Centre (bairdanchor.org)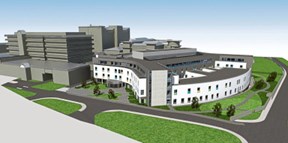 RAIGMORE
A new Highland children's unit was opened at Raigmore Hospital in 2016. Trainees gain experience working in a busy DGH that covers paediatrics and neonates, within the wide expanse of the highlands.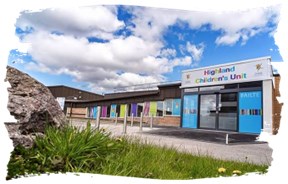 This page was last updated on: 08.11.2022 at 09.18