Workplace Behaviour
In order to support the development of a positive workplace culture and in recognition of the negative effects of bullying and undermining in obstetrics and gynaecology, the RCOG has put together a number of resources to help raise awareness of bullying and undermining and help to tackle the problem.
 There is an eLearning workplace behaviour toolkit which is free to access and available here
https://www.rcog.org.uk/en/careers-training/workplace-workforce-issues/workplace-behaviour/toolkit/
Workplace behaviour champions
The RCOG has appointed a workplace behaviour champion in every school/deanery to help to take this work forward and be a resource for trainees. The role of the WBC is to be a point of contact for O+G trainees for advice and support in relation to matters of unacceptable workplace behaviours.
The workplace behaviour champions in Scotland are listed, at the bottom of this page, and the contact details should you wish to get in touch.
Look for the following poster with the details of your workplace behaviour champions in your region.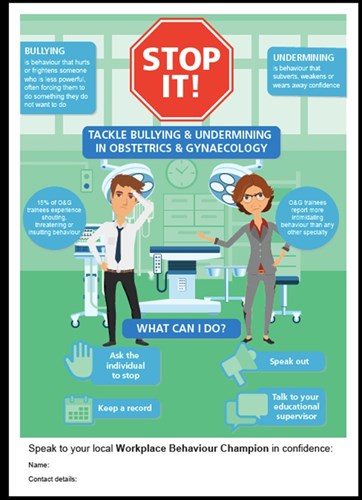 This page was last updated on: 11.11.2021 at 17.06