Welcome to the Scotland Deanery
We have created two short induction films to tell you about our deanery, how it works and what you can expect as you begin your training.  We hope you find these useful and informative!
Welcome to the Deanery 
Supporting your training
Governance of Training Management
Within the Scotland Deanery, training programmes are arranged either a) regionally or b) multi-regionally /nationally. All training programmes sit within a specialty grouping; for each grouping there is a Lead Postgraduate Dean and a Specialty Training Board (more information on Specialty Training Boards can be found here). The following diagram describes the individuals with responsibility for a trainee within a regional or multi-regional/national programme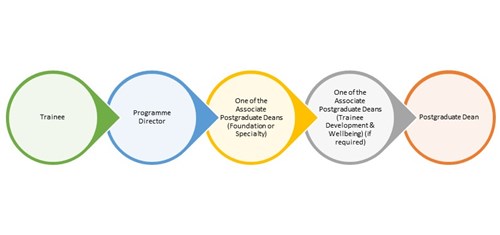 Training Management Team
We are here to help and assist every step of the way to ensure you achieve your CCT (CESR or CCST) and develop the right skills and experience to successfully practice as a consultant, dental specialist, or GP, whatever your career plan and specialty.
In addition to the key contacts above you may also wish to familiarise yourself with the administrator for your training programme from our Training Management Team. You will also meet members of the Quality team and colleagues who will support your development. For more information on Deanery staff and how we are structured, please visit Our People.
Also available:
Advice for trainee doctors in relation to using social media [leaflet prepared by NHS Ayrshire & Arran].
NES Whistleblowing policy [applicable to NES staff and individuals who interact with NES, including trainees].
This page was last updated on: 19.07.2023 at 16.12