Revalidation During Training
NHS Education for Scotland is the Designated Body for all NTN holders in Scotland.
This includes LATs and trainees on OOP, mat leave, sick leave, etc.
Please click here for information about the GMC and your revalidation.
It is your responsibility to make sure that your GMC Online account is up to date.  Also make sure you are familiar with GMC Revalidation information for doctors in training.
As part of the ARCP process you will be signing an annual declaration in order to revalidate and to maintain your licence to practice. Every year, you also need to ensure your SOAR account information is correct:
please check this well in advance of your ARCP date to make sure you can get any changes made and your declarations signed off in time.
Check if supervisors are going to be available - don't wait til the last minute
make sure that any supporting documents are in SOAR
remember that any declaration you sign in your College ePortfolio is not the formal declaration your designated body and Responsible Officer require. You need to sign off in SOAR as well.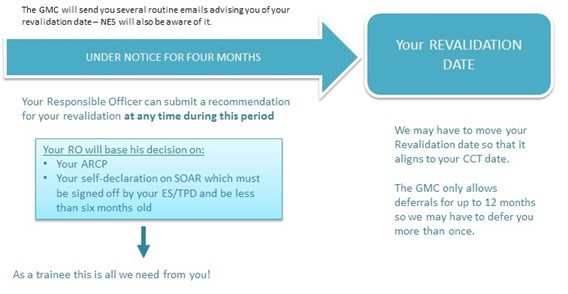 Visit the FAQs page, and if you have any other queries regarding your revalidation, please email us, including your GMC number, to revalidation.enquiries@nes.scot.nhs.uk
Revalidation requirements of doctors in postgraduate training where scope of practice extends outside their training programme.