Learning and development
NES General Practice Nursing learning and development is organised within a national coordinated network.
General Practice Nurse education in Scotland –
now and in the future
Read the recently published journal from Lynne Innes >here<

GPN Funding available now
Education and development opportunities for nurses working in General Practice teams:   https://www.nes.scot.nhs.uk/our-work/general-practice-nursing-gpn/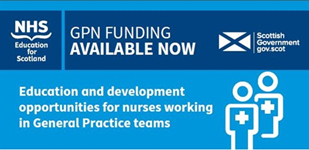 What is the NES GPN Co-ordinated Network?
The main purpose of the NES GPN Co-ordinated network is to advance general practice nursing in Scotland by providing information on access to quality, accessible and locally relevant information, support, education and representation for general practice nursing. Access to education supporting key national priorities will be given precedence.
General Practice Nursing is sometimes described as a fragmented workforce, and can feel isolating. The network seeks to to bring learning and development advice and support where it is needed. 
The GPN Learning and Development Network is supported by a team of GPN Education Advisors and Supervisors.
National Coordinator of General Practice Nursing in Scotland
Lynne Innes worked in a dual role as an experienced and enthusiastic Senior General Practice Nurse and Advanced Nurse Practitioner with over 20 years of knowledge, skills and understanding of General Practice.  She has been teaching on the undergraduate medical programme at Dundee University since 2009 and been involved with the GPN Programme since its inception in 2012 as a NES GPN Education Supervisor.
Lynne was appointed in January 2018 to the full time post of National Co-ordinator of GPN at NHS Education for Scotland and brings to the post valuable practical knowledge of working in general practice and delivering education at graduate level.
She is responsible for the NES GPN Programme as Programme Leader for the 15 month programme for nurses new to general practice nursing.  She also co-ordinates the GPN Network which supports a conscientious and dedicated group of GPN Education Advisors throughout the NHS Board areas within Scotland.
Specialist Educator for GPNs - CPD Connect
Vicki Waqa is an experienced Advanced Nurse Practitioner in General Practice in Edinburgh.  She was appointed in January 2018 to undertake leadership of CPD for GPNs throughout Scotland supporting short courses within CPD Connect and promotion of PBSGL with GPNs and nurses working in general practice in Scotland.
Booking for short courses is through the NES Portal.
Enquiries can be made to cpdconnect@nes.scot.nhs.uk
General Practice Nursing Education Advisors
In each Scottish Health Board area we aim to have a sessional General Practice Nursing Education Advisor. This provides a Scottish network linking local practice nurses, either through existing or new networks, to a national General Practice Nursing Coordinator at NES. The sessional roles give career opportunities for highly experienced and motivated individuals. This network also links to other national networks such as NES General Practice Associate Directors; NES Nursing, Midwifery and Allied Health Professionals (NMAHP); Scottish Practice Nurse Leads Group; Scottish Practice Nurse Association (SPNA), RCN Practice Nurse Association and RCGP General Practice Foundation.
The NES GPN Education Advisor works closely with their Health Board, in particular with existing practice nurse advisors and professional leads.
The principle aims of this role are to:-
Support the local development and delivery of education for general practice nurses.
Contribute towards national NES work commensurate with the GPN Education Advisors professional expertise to advance the role of General Practice Nursing.
Support the work of the NES National Co-ordinator for General Practice Nursing in local Health Board area.
The GPN Education Advisors contact details can be accessed by sending an email request to medicalpracticenurse@nes.scot.nhs.uk for the email address of  the NES GPN Education Advisor in the Health Board area you require.
General Practice Nursing Education Supervisors
NES GPN ES are experienced nurses working in general practice. The current team of 13 Education Supervisors successfully completed a programme of education to prepare them to provide work based learning as practice teachers for general practice nursing. Their employng practices are reimbursed for their time in delivering regular tutorials with their General Practice Nursing Programme participants. There is structure but also some flexibility in the tutorial programme. Supervisors also provide some teaching at the 10 central taught days.
NES General Practice Nursing Documents
NES published Cervical Screening Education Standards 2021 which are important for general practice nurses undertaking cervical screening. 
Appraisal Forms for conducting an appraisal with practice nurses. (If you are interested in peer appraisal then contact medicalpracticenurse@nes.scot.nhs.uk for more information).
This page was last updated on: 07.12.2021 at 09.27