Leadership in Training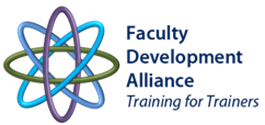 Delivering Effective Training is a course for Recognised/Approved medical trainers with at least a year's experience in that role.  The course explores the positive role leadership skills can have on the interactions of the workplace culture, quality of patient care and the delivery of training.  The course also explores the importance of the trainer : trainee relationship, and trainees being valued, supported and treated as individuals.
 
What is the Aim of the Delivering Effective Training course?
Aimed at experienced trainers (5yr+), this workshop will examine the environment in which training is delivered and explore ways in which it may be enhanced.
1) Address challenges of delivering high-quality training which meets growing curriculum requirements in an increasingly pressured clinical environment.
2)  Understand the ways in which the workplace culture and learning environment can influence training delivery.
3) Become familiar with the attributes required for effective leadership within the educational context.
The cost of the one-day course is £175 payable upon booking.
Cancellations and Refunds: Please note that full automated refund can be generated from the Portal for cancellations up to 4 weeks prior to the course.  Within 4 weeks of the course date, refunds may be given in exceptional circumstances only.
 Time: The course will run from 09.15 am to 4.30 pm.
| | | | |
| --- | --- | --- | --- |
|  Date |  Time |  Venue |  Availability |
|  Thursday, 22nd September 2022 |  09:00 - 16:30 | Teaching Room 1, Centre for Health Science, Old Perth Road, Inverness, IV2 3JH | TBC |
|   |   |   |   |
|   |   |   |   |
|   |   |   |   |
Register & Book
Places can only be booked through the FDA IT Platform, by creating an account and accessing 'Resources for Experienced Trainers'. 
Due to compatibility issues, some devices are not suitable for booking onto courses. 
Please ensure both your The Knowledge Network account and your NES Portal account have your most up to date details, using the same contact email address for both.  
Bookings cannot be transferred onto different cohorts. 
Enquiries
Please contact us at fda.admin@nes.scot.nhs.uk
This page was last updated on: 11.05.2022 at 16.05