AESW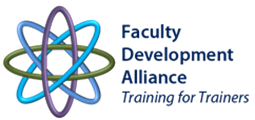 The Approved Educational Supervisors Workshop (AESW)  supports SPESC and other pre training course graduates, (generally 2-5 years after their initial course) who have had some active experience of training and managing a trainee. The course consists of an annual 2-day small group, residential workshop, centrally based in Scotland.  
The AESW provides the opportunity to review some of the topics covered in SPESC, as well as in-depth sessions designed around working as a GP Educational Supervisor in practice.  

Specific topics are based upon the needs of each group although often these include the following areas :
Teaching & Tutorial Skills
Doctors in Difficulty
MRCGP CSA/RCA & AKT
GP Curriculum & WPBA
Educational Reviews, e-Portfolio/14 Fish,  
Bookings: Booking can be made through the FDA Platform with payment of £200 securing a place. Informal queries should be directed to fda.admin@nes.scot.nhs.uk
Please ensure both The Knowledge Network and the NES Portal have your most up to date details, using the same contact email address for both.  
Cancellations and Refunds: Please note that full automated refund can be generated from the Portal for cancellations up to 4 weeks prior to the course.  Within 4 weeks of the course date, refunds may be given in exceptional circumstances only.
Course Dates 2021:
This page was last updated on: 31.03.2021 at 13.55