Advanced Medical Educators Course (AMEC) - (formerly Trainer Workshop Plus)
Advanced Medical Educators Course (AMEC) (formerly Trainer Workshop Plus)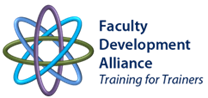 Aims & Objectives:
This is a one-day course for Primary* and Secondary care clinicians.  For those in Primary care you may be a Foundation supervisor, a Retainer Mentor, an Undergraduate tutor or acting as a Clinical Supervisor in the OOH setting only.  For those in Secondary care you will either be a Clinical or an Educational Supervisor for Foundation Speciality or GPSTs.
The course aims to assist you to develop your skills and confidence in those roles and to take on new challenges. 
It can be used to demonstrate ongoing development in relation to the Recognition of Trainers process at appraisal and revalidation and is of particular value to trainers of more than 3 years' experience.
The main areas of focus are  
1) Giving difficult feedback
2) Non-violent communication
3) Role modelling
4) Reflection
5) The use of narrative
*This course is not for GPs who are GPST Educational Supervisors, as this group of trainers would be served by the Approved and Experienced Educational Supervisor Workshops.
Course cost = £150 
 Please note: We request that anyone attending these courses not be on call and ensure mobile phones & devices are switched off for the duration of the course
 2019 Course Dates - Live and available to book
| | | | |
| --- | --- | --- | --- |
|   Date |  Time |  Venue |    Availability |
|  Friday 3rd May, 2019  |  09:00 - 16:30 |  Glasgow 2 Central Quay  |  FULL |
|  Thursday 30th May, 2019  |  09:00 - 16:30 |  Centre for Health Science, Inverness |  FULL |
|  Friday 21st June, 2019  |  09:00 - 16:30 |  Doubletree By Hilton Strathclyde |  FULL |
|  Thursday 26th September, 2019  |  09:00 - 16:30 |  Postgraduate Office, Ninewells Hospital Dundee |  SPACES |
|  Thursday 28th November, 2019  |  09:00 - 16:30 |  Westport, Edinburgh |  FULL |
Places can only be booked through the FDA IT Platform, by creating an account and accessing 'Resources for Experienced Trainers'.  Please note that some smartphone browsers may not support this site.  For more information please contact the admin team at fda.admin@nes.scot.nhs.uk