Medical certification of cause of death
 The Death Certification Review Service
Arrangements for death certification and registration in Scotland changed in 2015 with the introduction of the Death Certification Review Service (DCRS).
The DCRS undertakes reviews of medical certificates of cause of death (MCCDs) to:
improve the accuracy of MCCDs
provide better quality information about causes of death so that health services can be better prepared for the future, and
ensure that the processes around death certification are robust and have appropriate safeguards in place.
Further information regarding the scrutiny system and process managed by the DCRS can be found on the Healthcare Improvement Scotland website.
Updated guidance on use of abbreviations in Medical Certificates of Cause of Death
Following the release of a CMO letter from the Scottish government, the guidance for doctors completing Medical Certificates of the Cause of Death (MCCD) and its quality assurance regarding the use of abbreviations has been changed.  The list of abbreviations can be found in the updated CMO guidance at Appendix 4 - please click here to read the document.  
The reasons for using abbreviations are:
Those terms which are well known by clinicians and the public and do not cause confusion
Those with characters more than that can be accommodated on the electronic MCCD form and where it is an accepted abbreviation in the WHO ICD-11 classification
Accepted abbreviations are:
HIV - human immunodeficiency virus infection
AIDS - acquired immune deficiency syndrome
COVID 19 Disease or SARS-CoV-2- Coronavirus disease or Severe Acute Respiratory Syndrome Coronavirus 2
CREST - calcinosis, Raynaud phenomenon, oesophageal dysmotility, sclerodactyly, and telangiectasia syndrome
CADASIL - cerebral autosomal dominant arteriopathy with subcortical infarcts and leukoencephalopathy syndrome
CARASIL - cerebral autosomal recessive arteriopathy with subcortical infarcts and leukoencephalopathy syndrome
SCID - severe combined immunodeficiency
IgG – Immunoglobulin G
IgA - Immunoglobulin A
IgM - Immunoglobulin M
Educational resources and publications:
1. Online modules
NHS Education for Scotland worked with the DCRS to develop two online modules for certifying staff (each takes approximately 20 minutes to complete).
Module 1 Death Certification: Identifying Common Mistakes - this module is intended for doctors who are completing MCCDs in Scotland or doctors who have finished a training module on death certification and wish to confirm or improve their understanding of the subject.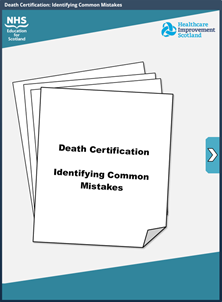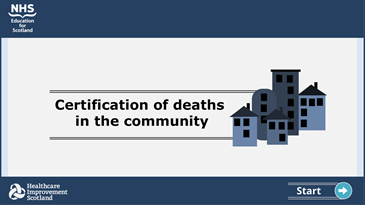 2. Top tips for certifying doctors
The DCRS has developed tips on correctly completing an MCCD, available at this link.
3. Information on Support Around Death website
This website provides information and educational resources on the clinical, legislative and practical issues involved in care before the time of, at and after a death, including materials on death certification in Scotland for certifying doctors and non-certifying staff.
4. Publications
Guidance for Doctors Completing Medical Certificates of the Cause of Death (MCCD) and its Quality Assurance
Management of Deaths in the Community
Contact us
For more information on the educational resources available for professionals regarding MCCDs, please contact supportarounddeath@nes.scot.nhs.uk.
To sign-up to receive NES' quarterly bereavement education e-Newsletter click here.
This page was last updated on: 22.09.2022 at 16.41