Bereavement educational resources
The NHS Education for Scotland (NES) Supporting Scottish Grief and Bereavement Care workstream aims to support the delivery of safe, effective and person-centred care which is provided, before, at and after death, to those who are at the end of life and to the bereaved, within a culture of support for staff health, wellbeing and resilience.
Background
Caring for the dying and supporting families around the time of death and in bereavement is core business for doctors within primary and secondary care. As patients and families experience of events leading up to and surrounding death, can significantly influence the nature of their bereavement, optimal handling of the preparation for, and support around expected and sudden deaths by healthcare professionals is an important part of improving bereavement care in Scotland.
NES is working to improve the quality of care of the dying and bereaved through an inter-disciplinary and cross sector approach to the development of training and educational resources, informed by available academic literature.
National training framework
In conjunction with various partners NES is drafting a bereavement care national training framework and associated toolkit of educational resources for medical staff in Scotland.
Educational toolkit
NES is continuing to add to a broad toolkit of educational resources for healthcare professionals, relevant to end of life and bereavement care. The majority of materials launched to date are openly accessible on NES' Support around Death website. Examples of resources currently available include:
Suite of 14 animated films – each of these quick to view (approx. 5-minute) animations cover a different bereavement-related topic. They can be viewed by individuals or used within group teaching environments - four example videos are featured below, or click here to view all.
Discussing Dying (L) and Delivering the News of a Death by Telephone (R)
Withdrawal of Active Treatment in an Intensive Care Setting (L) and Stories for Education: Living With Death (R)
Downloadable handouts and fact sheets

Each of NES' bereavement films have any accompanying leaflet which covers key summary points and prompts to encourage further discussion within group learning settings. View all accompanying handouts here
Educational resources on other topics include e.g. Supporting LGBT+ people around death and bereavement
e-Learning modules – e.g.
Practice-Based Small Group Learning (PBSGL) – a bereavement module (for primary care staff) has been developed which includes a case regarding the death of a child and information on stillbirth/ peri-natal death. For more information on PBSGL click here
To keep up to date with newly launched bereavement-related educational resources you may wish to consider signing up to NES' quarterly bereavement education e-Newsletter. Coming soon – a new free mobile app which will act as a communication prompt for professionals when talking to those who are bereaved.
Support around Death website
In addition to a range of educational resources, this website provides key information for health and social care professionals on the clinical, legislative and practical issues involved in care before the time of, at and after a death.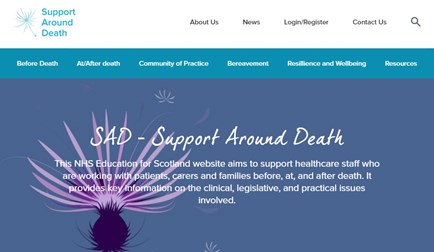 Contact us
For more information please contact supportarounddeath@nes.scot.nhs.uk or follow us on Twitter: @NES_Bereavement
To sign-up to receive NES' quarterly bereavement education e-Newsletter click here.
This page was last updated on: 22.06.2021 at 09.07