Professional Support Unit (PSU)
All trainees will require differing degrees of support at different stages of their training. The main responsibility for supporting trainees will remain, as it always has, with the local NES training teams (clinical/educational supervisors, training programme directors and local associate deans).
On occasions where significant issues are occurring which are highly likely to threaten progress of training or where significant patient safety issues are raised it will often be appropriate to offer support external to the local training team. Occasions where this level of support is necessary are classified as "level 3 support" needs.
The strategic vision of the PSU is:
To promote early identification of trainees who require professional support.
To provide clinical and educational supervisors with a clear structure for identifying and addressing any difficulties.
To ensure clear lines of responsibility for other educators involved in managing trainees requiring professional support.
To provide a network of support for educators throughout Scotland.
To establish a group of experts who can deal with specific areas of difficulty and where necessary refer to additional resources and identify opportunities for targeted training.
To ensure equal access to educational support.
The purpose of the PSU is to ensure that doctors who may be experiencing difficulties are identified and supported as early as possible. The work of the PSU is based on the following underlying principles:
To support trainees in their training with a view to providing them with the tools to progress in their training programme.
To support trainees during the process of leaving a training programme if support and remediation are unsuccessful.
To support educational supervisors managing trainees with difficulties in the workplace.
To provide a culture of support and development.
Processes and decisions will be transparent and understood by all.
Decisions will be based on best evidence.
To provide clear criteria for assessment and decision making.
To ensure consistent application of guidelines across the Scotland Deanery.
To ensure a responsible use of funding and resources.                       
Who are the key contacts in the PSU: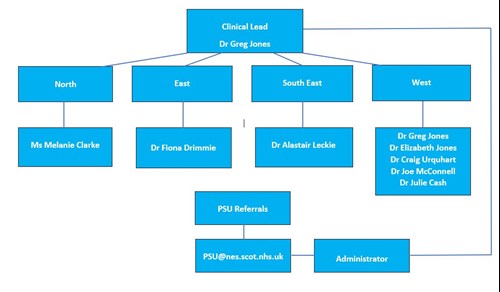 Who Should Be Referred to PSU:
Trainees needing level 3 support.
This is defined as concerns or repeated performance problems that present a high level of risk to patients, colleagues or to progression of trainees in their programme.
Unsatisfactory educational supervisor end of placement report from more than one consecutive placement.
Repeated Failure of examinations which will trigger additional time in training
ARCP outcome 3,4, 7.3, 7.4
Any trainee who despite extension of training due to lack of satisfactory progress or ill health is still not meeting training targets.
Any clinical concern requiring removal from on call duties or usual work of grade
Any incident of clinical concerns triggering formal disciplinary investigation which triggers suspension from duty.
Any GMC referral by LEP or trainers
Combinations of any of above
If ARCP/ sickness/GMC report automatically raises a concern suggesting need for Level 3 support the trainee case may be automatically flagged and be under review of PSU but this should not stop or delay any referral.
What does the PSU do:
It is the aim of the PSU to assign a Trainee Support Coach to all trainees with level 3 support needs. Trainee Support Coaches are senior clinicians who will be appropriately trained and supported to assist trainees with issues impacting their training. This will allow face to face support to be offered if needed, ensure consistency of approach across NHS Education Scotland and equity of access to support resources.
Who can make a referral to the PSU:
Referrals will come from Foundation Programme Directors, Training Programme Directors, Associate Postgraduate Deans, GP Training Leads and Directors of Medical Education. If local region Professional Support Associate Dean is not already involved with or aware of trainee they should be informed. If in doubt about whether referral is appropriate it is often helpful to discuss case with local Professional Support Associate Dean prior to referral.
Can a trainee self refer:
Yes. Please email here.
How do I refer to PSU:
Please email a copy of the Referral Form to the PSU here
All referrals will be reviewed by member of the team within 7 days.
What will happen to PSU meeting records:
All records (barring those which raise significant patient safety concerns) of meeting with a Trainee Support Coach will be confidential and only shared as agreed with the trainee. It would be hoped that in most cases trainees would see the benefit of sharing issues they are facing with the wider training management team. If the trainee wishes to keep any details of their case confidential (barring those which raise significant patient safety concerns) then that information will be kept, separate to training record, in a confidential folder accessible only to the PSU team.
Trainee Support Coaches will be tasked with communication of concerns and agreed actions with local training teams.
What about trainees needing support who do not meet level 3 support need criteria:
Support for trainees in this situation is still very important but they would not normally be referred to the PSU. Local training teams will continue to offer support as before and can discuss cases with regional Associate Postgraduate Deans who are there to support local teams.
Local Performance Review Groups will be expected to follow nationally agreed processes to ensure consistency of approach with trainees requiring lower degrees of support.
To find out more about the PSU, please refer to the PSU Operational Framework.
This page was last updated on: 02.02.2022 at 11.34