Improving Surgical Training Programme (IST)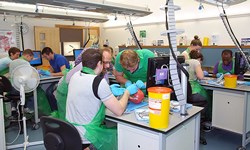 Welcome to the new webpages of the two Scottish Core Surgical Training programmes – West of Scotland and East of Scotland. This year all the CT1/ST1 posts in these programmes are included in the Improving Surgical Training (IST) pilot, some as run-through posts in General Surgery, some as "uncoupled" Core Surgical Posts.
Some features of the IST pilot that we really want to deliver are:
An improved balance between service delivery and training 
At least 60% of duty time will be within daytime hours, allowing better access to elective training opportunities.
An improved relationship with professionalised trainers
The posts will almost all be of 12 month rather than 6 month duration; trainers will have double the time in their job plan for training compared with previously.
Integrated use of simulation as an adjunct to clinical apprenticeship
In Scotland the government has funded the simulation strategy outlined below, as well as the increase in trainers' dedicated time.
Personnel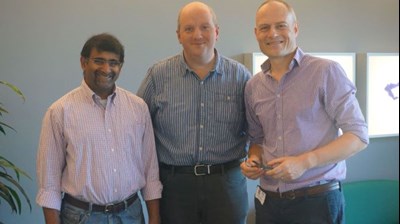 Mr Satheesh Yalamarthi, Mr Mark Vella and Prof Kenneth Walker
Training Programme Directors: Mr Satheesh Yalamarthi (East), Mr Mark Vella (West)
Associate Postgraduate Deans: Mr Alistair Murray (East), Mr Dominique Byrne (West)
IST Simulation Lead: Prof Kenneth Walker
Role of Assigned Educational Supervisors:
Ensuring trainee has a Departmental induction
Co constructing a learning agreement at the start of the placement
Regular, on average 2 weekly, meetings with feedback documented on ISCP
Interim and final meetings
Final report
Ensuring skills clubs are run regularly and checking on progress with the Portable Laparoscopic Simulators
Careers guidance
Escalating issues/doctors in difficulty to TPD
Requirements for Intercollegiate Surgical Curriculum Project (ISCP) and Annual reviews of Competence and Progression (ARCP):
A minimum of 40 WBAs and 50% to be consultant validated. These need to be accrued at a rate of 1 per week; 40 WBAs validated over a short period of time before ARCP will not be acceptable. WBAs linked to topics to demonstrate broad coverage of the core curriculum
Multisource Feedback for every post (i.e. Two if trainees are in two 6 month posts, one for a 12 month post)
Separate comments from Clinical Supervisor/s (CS; trainees can nominate up to 7 on ISCP) and a completed Learning Agreement including Final Report from their Assigned Educational Supervisor; the AES can also be a CS and make comment about their clinical performance but trainees must also have separate comment by a different trainer so we get a broader assessment of their abilities.
An elogbook on ISCP which is up to date (around 200 procedures per year)
Current CV
Photograph on ISCP
SOAR declaration signed off
Absence record completed and uploaded
GMC Trainee survey completed and uploaded
Part A MRCS achieved by end of CT1 (if trainees have failed twice they will need to contact us ASAP) and result uploaded to ISCP
Attend 70% of the teaching sessions; evidence of attendance uploaded to ISCP
At least one audit/research project per year
Before ARCP we will assess trainees' performance on 6 fixed tasks on the Portable Laparoscopic Simulators to ensure they have attained a good standard
Simulation strategy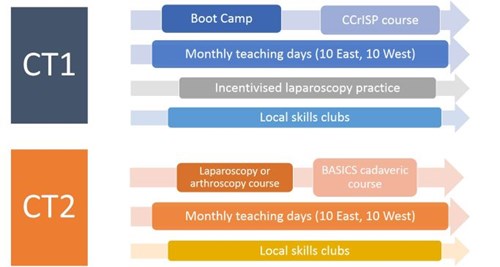 Download the Simulation Strategy (pdf)
A course booking system has been developed on TURAS Learn for trainees to book onto the Monthly Training Days which are separated into East and West of Scotland.  To access this booking system and book onto each training day please make sure trainees have a TURAS Learn account and click on the link below:
Please note registration closes 4 days before each training day. 
Other links:
This page was last updated on: 31.07.2019 at 15.46