CST Curriculum
What to expect as a CST trainee
As a trainee you will have an Assigned Educational Supervisor (AES) who will:
Ensure you have a departmental induction
Together with you, construct a learning agreement at the start of your placement
Have regular, on average 2 weekly, meetings with feedback documented on ISCP
Have interim and final meetings with you
Provide you with your final report
Ensure skills clubs are run regularly and check on your progress with the Portable Laparoscopic Simulators
Provide you with careers guidance
Escalate any issues or difficulties you may be having to the TPD
The simulation strategy aims to deliver:
An improved balance between service delivery and training. At least 60% of duty time will be within daytime hours, allowing better access to elective training opportunities.
An improved relationship with professionalised trainers. The posts will almost all be of 12 months rather than 6 months duration; trainers will have double the time in their job plan for training compared with previously.
Integrated use of simulation along side the clinical apprenticeship
To allow you as a trainee to progress, you must meet the requirements for Intercollegiate Surgical Curriculum Project (ISCP) and complete Annual reviews of Competence and Progression (ARCP). 
In order to meet these requirements you must: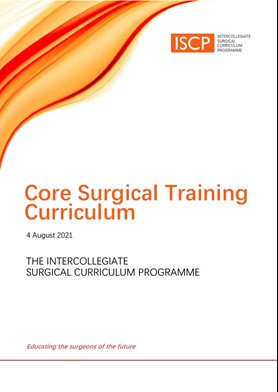 Have a minimum of 40 WBAs and 50% to be consultant validated. These need to be accrued at a rate of 1 per week; 40 WBAs validated over a short period of time before your ARCP will not be acceptable. WBAs should be linked to topics to demonstrate broad coverage of the core curriculum
Obtain feedback from multiple sources for every post. You need to have two if you are in 6 month posts, and one if you are in a 12 month post
Have comments from different Clinical Supervisors (CS) of which you can nominate up to 7 on ISCP.
Have a completed Learning Agreement including Final Report from your Assigned Educational Supervisor (AES). Your AES can also be a CS and make comment about your clinical performance, however, you must also have separate comment by a different trainer so we get a broader assessment of your abilities
Complete and keep up to date an elogbook on ISCP with around 200 procedures per year
Have a current CV
Upload your photograph on ISCP
Have SOAR declaration signed off
Upload a complete absence record 
Complete and upload General Medical Council (GMC) Trainee survey 
Achieve Part A MRCS by end of CT1 and upload the result to ISCP (if you have failed twice please contact us ASAP) 
Attend 70% of the teaching sessions with evidence of attendance uploaded to ISCP
Complete at least one audit or research project per year
Achieve a good standard of performance on 6 fixed tasks using the Portable Laparoscopic Simulators.  This needs to be assessed before your ARCP 
Related Links
This page was last updated on: 11.08.2022 at 14.51