IMT Bootcamp Information for Trainees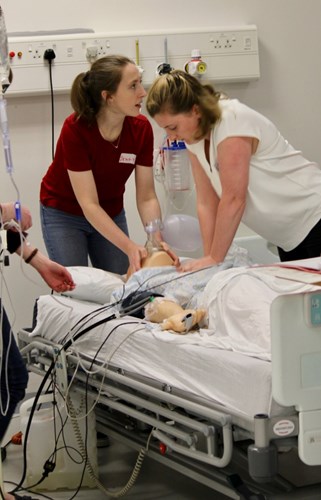 Welcome to IMT and I look forward to meeting you at the IMT boot camp.
The boot camp is an exciting new addition to physician training in Scotland.  We will be bringing together trainees and faculty from all regions for three days of intensive education hosted by the Scottish Centre for Simulation based at Forth Valley Royal Hospital (FVRH) in Larbert.
The information here is important, please read it carefully.
Allocations
All trainees should already be allocated to a boot camp by their TPD.  If you do not know which boot camp you have been allocated to, please get in touch with your regional administrator as soon as possible.  These allocations have been done with care to avoid disproportionate impact on any service or hospital so please do not swap amongst yourselves.  Swaps will only be considered in exceptional circumstances; please get in touch with me directly if you are no longer able to make it to your allocated boot camp.
Approximately four weeks before your allocated boot camp you will receive an email containing a link to the essential pre-course questionnaire.  Completion of the questionnaire confirms your place on the allocated boot camp, so please complete it as early as possible.  It should take less than ten minutes and you will not be able to attend boot camp unless it has been completed two weeks beforehand.  If you do not receive the email within a fortnight of your allocated boot camp, please check your spam messages and then contact me directly.
Arrangements
To take full advantage of the social opportunities and reduce travel fatigue, we would like to encourage all trainees to be residential in Larbert for the duration of the boot camp. However, it is not mandatory to stay overnight.  Travel and accommodation needs to be booked individually by trainees and will be reimbursed (please keep all receipts) as per the NES study leave travel, accommodation and subsistence rates, refer to the Scotland Deanery Trainee Study Leave Policy and Operational Guide.
Here are details of three local hotels.  You are, of course, welcome to find alternatives or stay with friends or family.  Please note that the funding for all aspects of the boot camp (including travel, accommodation and subsistence) is in addition to your usual study leave budget and will not impact on other claims over the course of IMT. 
Timetable
All trainees are required to be at the Scottish Centre for Simulation at FVRH by 8.30 am on the first day of the boot camp. 
Directions to the Scottish Centre for Simulation Centre. 
Monday and Tuesday will run from 8.30 am until 6.00 pm and Wednesday will run from 8.30 am to 4.00 pm (to allow travel home).  All trainees are required to be present for the full course and late attendees will be excluded; trainees living more than a short drive from Larbert may therefore wish to consider staying locally on Sunday night. 
Further timetable information. 
You will not be seeing (real) patients during the boot camp so please feel free to dress casually.
Pre-course preparation
The boot camp will consist of three main strands: immersive simulation covering emergency presentations; workshops on a variety of challenging communication scenarios; and mastery learning of procedural skills.  The first two strands do not require any specific preparation.  The procedural skills aspects of the course give trainees the opportunity to be signed off as 'ready for directly supervised workplace practice' in lumbar puncture, ascitic procedures and pleural procedures.  This will fulfil the requirements for IM year 1 in relation to many of the procedures listed in the Curriculum for Internal Medicine Stage 1 Training.
However, this standard will only be reached if significant pre-course study is undertaken. This work is required even by trainees who already feel confident in these procedures, to ensure that a common standard is attained in IMT.  If faculty feel that a trainee has not engaged with the pre-course learning, or does not meet the required standard during boot camp, they will not be signed off as competent to proceed with supervised practice on patients and will have to find an alternative method of training in that skill.
The required pre-course work is all hosted on the NHS Lothian Mastery Skills website found at https://www.med.scot.nhs.uk/simulation/the-mastery-programme and my thanks goes to James Tiernan and the Lothian team for facilitating open access to these high quality resources.
Essential pre-course preparation includes:
As you can see, the total time required for this work is significant; for each procedure there is approximately 2.5 hours of preparatory work.  The leaner mastery session videos give you an idea of the mastery session that will be undertaken for each procedure at the boot camp.  Faculty will only have 40 minutes per trainee, during which the required standard must be demonstrated.  It is very obvious, very quickly, if trainees have not engaged with the pre-course learning and in that situation a trainee will unfortunately forfeit the opportunity to meet these curriculum requirements at the boot camp.
I hope this information is useful.  I am excited about the opportunities that boot camp presents and I am very much looking forward to meeting you all.  If you have questions about any aspect of the boot camp, please do not hesitate to get in touch.
Vicky Tallentire
Consultant Physician, Edinburgh
APGD for IMT simulation